For those of you that love roller coasters and amusement parks, you don't want to miss Coasterstock on May 17-18th, 2019 at Kings Island amusement park located in Mason, Ohio. Kings Island is one of the largest and most storied amusement parks in the United States. It ranks in the top 15 for park attendance in North America, which is no surprise with its World-Class collection of roller coasters, rides,and it's Planet Snoopy area which just won the Golden Ticket Award* for"Best Kids' Area in the World" for an astounding 18th year in a row.I had the pleasure this week to speak with Don Helbig Kings Island's Area Manager, Digital Marketing to talk about what is in store for Coasterstock,which will take place May 17th and 18th.
Most Roller Coaster clubs have their own organized events scheduled at different parks around the world that are exclusive to only their club. Don stated "Coasterstock is that opportunity for everyone that has a common interest and passion for roller coasters to come together. We have people from over 20 different states, and multiple countries such as Germany and Switzerland that have attended annually. When they come to Coasterstock, they are not ACE, GOCC, or Coaster Crew, they are Coasterstock people. There are no divisions here, in fact, many people reunite with connections they made at a previous Coasterstock." As the event grows, which it has yearly according to Don, new connections and friendships are sure to be made.
Don was able to provide me with some details for this year's Coasterstock. For someone who has attended this event every year, I am certainly excited for the list of activities that are planned.
---
The Beast 40th Anniversary
The Beast, celebrating its 40th year terrorizing Kings Island guests, will be the focal point of this year's Coasterstock. Expect the the new Coasterstock logo to be released shortly after tickets go on sale. So hang on tight, as the Beast will be lurking in the woods for its next victim.
---
ERT (Exclusive Ride Time)
It was confirmed that there will be an extended Beast ERT that will go until 12:30 am, so there will be plenty of chances for everyone to get plenty of legendary night rides on the Beast.
Morningn ERT Sessions
Adventure Express
Banshee
The Bat
Delirium
Dodgems
Drop Tower
Flight of Fear
Grand Carousel
Invertigo
Scrambler
Evening ERT Sessions
The Beast
Backlot Stunt Coaster
Diamondback
Great Pumpkin Coaster
Kings Mills Antique Autos
Mystic Timbers
The Racer
Vortex
Woodstock Express
---
Behind-the-Scenes Tours
One of the best things about Coasterstock are the wonderful and informative tours presented by the park. These behind-the-scenes tours allow attendees to traverse areas of the park, that at are usually off-limits to park guests and provide an opportunity to capture amazing photos and video of their favorite roller coasters and rides.
"Changes were made to our Beast and Racer tour this year" stated Mr. Helbig. Starting this year, when you purchase your tickets online, you will select a tour package for your Beast and Racer tours. There will be two groups, Group A and Group B. By condensing the number of tours for the Beast and adding another tour for the Racer, we will be able to accommodate for any delays of tours due to inclement weather.
The Kings Island & Miami Valley Railroad tour will be back again this year with a time change. This year the tour will start at 10:00 am after the morning ERT sessions complete. This will allow attendees to be able to attend ERT and the Train tour. In years past attendees were rushed to get across the park after the train tour to be able to take part in morning ERT. After the train tour is completed, attendees will get to be the first riders of the day on the KI&MVRR.
Here is the list of tours:
The Beast and The Racer Package (Group A and Group B)
Banshee
Diamondback
Slaughterhouse
Flight of Fear (Lights on)
Kings Island & Miami Valley Railroad (10:00 am Start time. Will include first train ride of the day)
Beast/Racer Tour Package Example (Times are not final)
| | | |
| --- | --- | --- |
| Example: | Beast Tour | Racer Tour |
| Group A: | 2:00 pm | 5:00 pm |
| Group B: | 4:00 pm | 6:00 pm |
---
Contests
There is a change to the contest lineup this year. First off, lets start with the Photo Contest. There will be two this year.
FunPix Photo Contest– "NEW in 2019" This is a new contest where Coasterstock attendees will complete for the best Funpix photo.This is a great way to create some lasting memories and connections with other Coasterstock attendees.
---
Photo Contest– Are you a cellphone, semi-pro or professional photographer? Take your photos and submit your best ones for a chance to win. Remember, it's not always the equipment, it's what you can do with your equipment. I've seen some great photography captured on an iPhone.
---
Selfie Hunt- "NEW in 2019" This contest will replace the previous Scavenger Hunt. The basis of this contest will have users take selfies in certain places around the park based off clues provided. Here is a tip from Don Helbig, "The better your Kings Island history knowledge, the better chance you will have to win".
---
Coasterstock Feud- A big hit at Coasterstock IV, Coasterstock Feud will return this year during one of the catered meals. Teams will be drawn randomly from a selection pool. Don hinted that the winning team "might get to do something other Coasterstock attendees won't get to do".
---
Special Guests Speakers
Finally, there will be guest speakers at Coasterstock to coincide with events that will be taking place this year and in the future at Kings Island. There will be a slight change of venue for speakers this year. There will be speakers during the catered meals and at the Peanuts Showcase which is located in the building behind the Great Pumpkin Coaster. According to Don, the Peanuts Showcase holds about 250-300 people. 
Jeff Gramke – Jeff Gramke helped design and build the Beast, and has helped maintain it for 40 years. Jeff will speak about his time working on the Beast and will retrospect on how the Beast has maintained its longevity.
---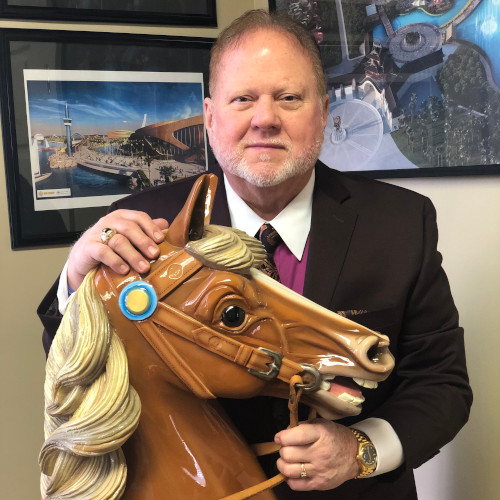 Dennis Speigel– Dennis Speigel of International Theme Park Services, is one of Kings Island's founding fathers. With the upgrade of International Street and the Royal Fountains for the 2019 season, Dennis will be at Coasterstock to speak about his time planning and conceptualizing the original International Street design during Kings Island's development and construction.
---
Brian Lamm – Brian from Brian Lamm Media will be speaking about Kings Island: 50 Years of Memories, A documentary he is producing for the park's 50th Anniversary in April 2022. Coasterstock attendees will get to know a little more about the project and the team bringing it all together. There will also be a sneak peek of some early work being completed on the film.
---
Contest Winners Announcement
Contest winners this year will be announced after dinner on Saturday instead of the waiting until the end of the second night. Don said this year there will be "Special Trophies" given out to contest winners.
Food
Coasterstock attendees will get to enjoy a catered meal on both days in the picnic grove area. Additionally, dinner has been moved to an earlier time on Saturday to accommodate folks who are visiting from out of town and are unable to stay a second night. "This will allow them a chance to eat dinner and still get a couple of more rides on some of their favorite coasters before they need to leave."
---
Itinerary 
**Updated 2/1/19 – The Park updated their Coasterstock Page with the full Itinerary
Friday, May 17
7:00 a.m. – Parking Tolls Open and Check-In begins
8:30 a.m. – 10:00 a.m. on Banshee, Delirium, Adventure Express
9:00 a.m. – 10:00 a.m. on Drop Tower, Bat, Invertigo
11:00 a.m. – Banshee behind the scenes video/photo opportunity
12:00 p.m. – 1:30 p.m. Catered Meal. Hear from Jeff Gramke, co-designer of The Beast roller coaster and manager, facilities, engineering and construction at Kings Island
2:00 p.m. – The Beast behind the scenes video/photo opportunity (Group A)
3:00 p.m. – The Beast behind the scenes video/photo opportunity (Group B)
7:00 p.m. – Hear from Brian Lamm, Kings Island: 50 years of memories project in the PEANUTS Showplace
10:30 p.m. – 12:00 a.m. on Diamondback, The Beast, Mystic Timbers, Vortex, Racer, Antique Cars
Saturday, May 18
7:30 a.m. – Parking Tolls Open and Check-In for late arrivals
8:30 a.m. – Flight of Fear Lights on Walk Through as ride is going through test cycles
9:00 a.m. – 10:00 a.m. Flight of Fear Lights on Rides
9:30 a.m. – 10:00 a.m. on Dodgem, Scrambler, Grand Carousel
10:15 a.m. – 11:00 a.m. Story behind our Steam trains with Q&A and photo opportunities (Train Depot in Rivertown)
1:30 p.m. – Slaughterhouse lights on walkthrough
2:00 p.m. – Diamondback behind the scenes video/photo opportunity
3:00 p.m. – 4:30 p.m. – Catered Meal. Hear from Dennis Speigel, president International Theme Park Services, Inc.
5:00 p.m. – Racer behind the scenes video/photo opportunity (Group B)
6:00 p.m. – Racer behind the scenes video/photo opportunity (Group A)
10:30 p.m. – 11:15 p.m. on Woodstock Express, Great Pumpkin Coaster
10:30 p.m. – 12:00 a.m. on Backlot Stunt Coaster, Diamondback, Mystic Timbers
10:30 p.m. – 12:30 a.m. on The Beast
---
Ticket Information
Make sure to get your tickets early and don't not miss out on this fun and exciting event.
Coasterstock will take place Friday May 17th and Saturday May 18th, 2019.
Tickets for Coasterstock go on sale Friday February 1st at 10:00 am.
Purchase your Coasterstock tickets at Kings Island's Coasterstockpage.
For those wanting to take part in Coasterstock, they must be a valid member of one of the recognized Coaster Clubs listed below (Memberships will be verified):
*Every year, Amusement Today gives out awards to the best of the best in the amusement park industry in a ceremony known as the GoldenTicket Awards. The awards are handed out based on surveys given to experienced and well-traveled amusement park enthusiasts from around the world.